Companies in today's era can exclusively exist on the internet, as everything takes place in the digital world, especially their large part of managing and creating. Thus, doing digital marketing for business has become conventional by using the power of email for the masses.
But the new issue that arises here is fake details, bot, breakage, unsubscriptions, etc. that alarms businesses for a service that can check on the quality of the content.
We have set down the 10 best email list cleaning service providers for your reference: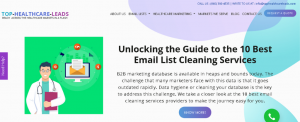 One who is specialized in healthcare marketing information uses the right tools that can track your progress, gives you a competitive edge over others to reach the prospects, deliver verified and relevant email list after cleaning, the only name that comes into the client's mind is Top Healthcare Leads who holds a successful market experience at the same time.
Data is cleaned and appended for free for the existing database as it affects the business reach and ROI if you continue using invalid email lists. Easy to understand it is a 4 step process to improve the email marketing experience and stay, and finalizing the list after going through opt-in and opt-out addresses.
2. Clearalist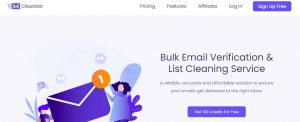 Image Source:  Clearalist
They are another email list cleaning service provider of email lists in the market who guarantee faster, accurate and secure email validation service to the clients. They deliver better verification results than others as they offer clients with multiple facets like mailbox validation, duplicate removal, SMTP validation, syntax validation invalid removal, and more.
Accuracy level invalidation is more than 98%, also uses SSL security to protect client's email list files during the verification process.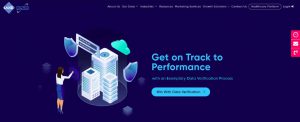 Image Source:  Lake B2B
Another best email list scrubbing service provider that has translated the most robust multi-channel marketing solutions into measurable results is Lake B2B. With them, clients and businesses get to easily experience exponential growth, by figuring out the channel that is or could be going to exploit the growth and develop an aligned path for establishing a global presence.
To project to the key prospects as a global brand, Lake B2B brings out the perfect message and mode in strategically scaling the business vision. Multiple validations and cleaning tools are used to grow the inbound sales leads that help clients and their businesses in driving the results on par with expectations.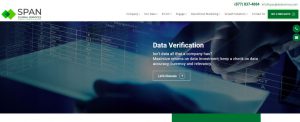 Image Source:  SpanGlobal Services
With the rising need and complexity in businesses regarding customer retaining and looking for the new ones who can give greater and compatible conversion rates, Healthcare Marketers assist in delivering the right content to periodically updated email lists that empower clients.
Contemporary B2B marketing techniques and tools for email cleaner services are used to ensure success.
5. EmailMarker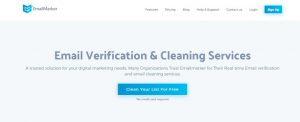 Image Source: EmailMarker
To improve upon the premium customer service experience, EmailMarker is always challenging themselves to find new ways for clients to make them deserve the best. They are regarded as a trusted platform in email cleaning services and to get rid of junk emails from the list. With them, clients can get prevented from spamming.
Their real-time API is the best option to verify emails as API is available in Python, .net, formats. Several validation processes such as RFC syntax inspection, systematic spam trap control, email deduplication, etc. are used for quick email verification.
6. KickBox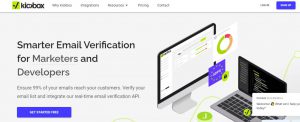 Image Source: KickBox
Another trusted name in email cleaning is KickBox who has major ESPs AND ISPs. Real-time email verification API is used in the verification and integration of emails. They provide potential API library to their clients like Ruby, Python, PHP, etc. so that they get a head start.
Clients choose them because of their comprehensive results with more than 99% deliverability guarantee, 12 years of expertise in the anti-spam industry, etc.
7. BounceLess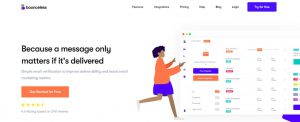 Image Source: BounceLess
To boost email marketing metrics, simple verification in email list cleaner is performed by another service provider, namely BounceLess. For unsubscribe requests, spam complaints and bounces, they have set limits by using various internet regulators such as anti-spam groups and ISPs. Client's actual interests are met, they get to save money & improve ROI, all at the same time.
To try a sample before actual payment, BounceLess also give away 100 free testing credits to every new user. MTA validation is also available to prepare a powerful email list cleaning, also clients get detailed report to review and after that download the final results.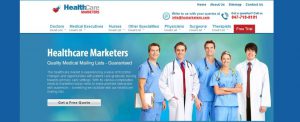 Image Source: HC Marketers
One can empower their marketing with another online email list cleaning service provider i.e. Bouncify. They help clients in improving their sender reputation through the use of ESP that saves them from all the troubles. They remove all the bad emails from the list as their advanced email list verifier complies with syntax validation, spam trap removal, disposable email check, etc.
Engineers and real people with experience of more than 10 years are behind the success of Bouncify, which makes it the leading list cleaning service provider in the market.
9. Snov.Io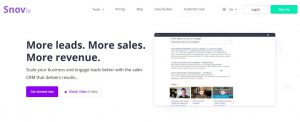 Image Source: Snov.Io
Snov.Io engage client's leads, scale their business and is a perfect email verifier that will reduce the bounce rates. SMTP authentication is used in lists to check if an email is valid or not, also a domain existence check is made available to clients to make them sure about the email domain's reliability.
A thorough 7-tier verification process is undergone for every email list to verify the email addresses efficiently. Clients also get MX record check to know whether they can accept the email or not.
10. VeriFalia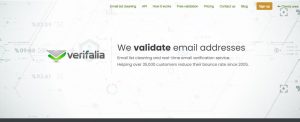 Image Source: VeriFalia
With the experience of more than 15 years in the email list scrubbing industry, VeriFalia can reduce bounce rates, protect the sender reputation, all at the same time. They are the only ones in the market to provide detailed response codes and 3 levels of service quality to clients in real-time. Feature-rich email cleaning is ensured by VeriFalia with DNS check, disposable email detection, etc.
Clients can safeguard their premium content & avoid fake sign-ups by using VeriFalia verification API powerful ways in cleaning emails.
Final Notes
We just wanted to provide you with a comprehensive list of email cleaning service providers in the market, thus we do not take any responsibility for your success in selecting any one or more from these providers. But we will clear you with one thing that chooses any email cleaning service based upon several facets such as experience in the industry, opening, click-through & conversion rates, reputation with ISPs & ESPs, etc. Also, email list cleaning is highly recommended from time to time in this fast-moving digital world!